30
Nov
Use of the renewables in Europe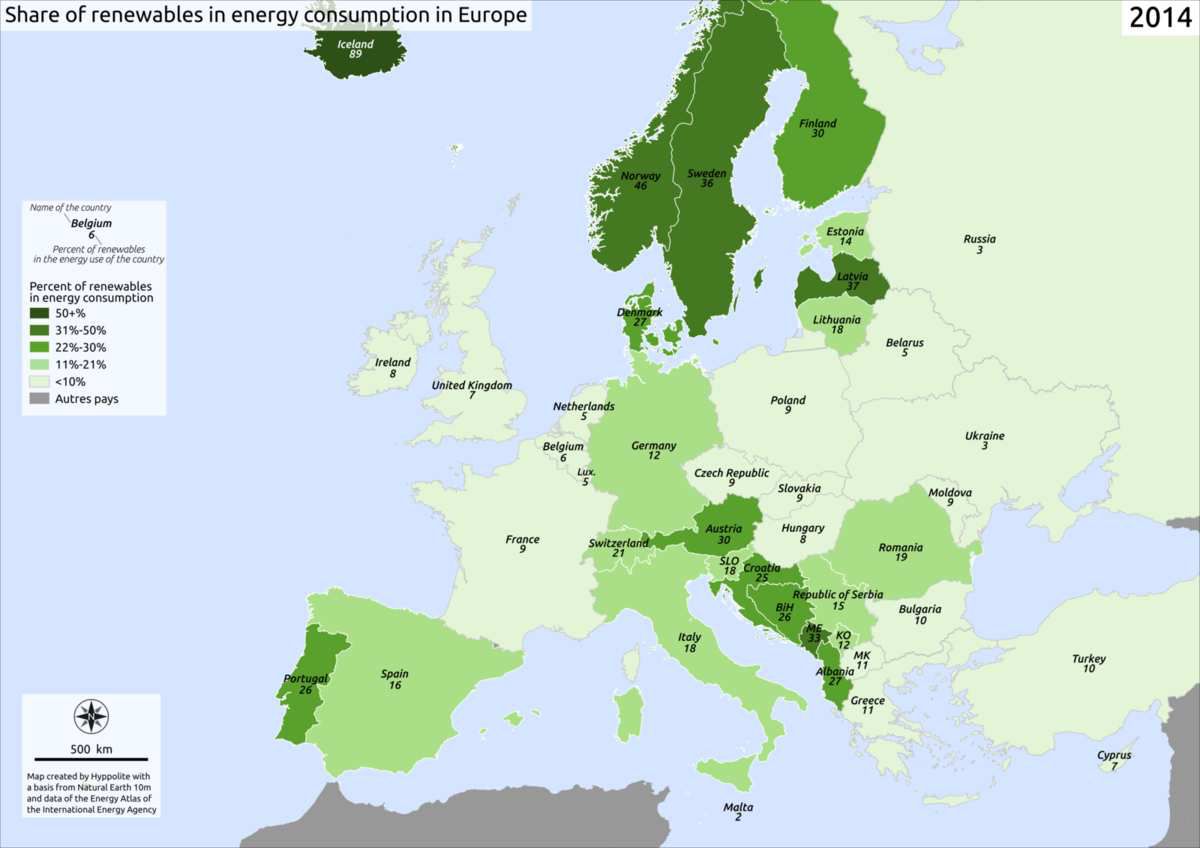 Les énergies dites renouvelables sont des moyens locaux de production d'énergies utilisant les richesses du territoire quant à son ensoleillement, son vent, son hydrologie, sa production de combustibles végétaux ou, même, ses déchets.
D'après des chiffres de 2011 du Conseil Mondial de l'Énergie (World Energy Council - www.worldenergy.org), l'Europe est à la pointe en capacités renouvelables installées. Elle disposerait de pas moins de 73,6% du potentiel mondial en énergie solaire et de 40,1% en énergie éolienne. Cette position clairement dominante cache toutefois une grande disparité au niveau de la part consacrée aux énergies vertes dans le mix énergétique de chaque pays.
Selon des chiffres de l'Agence Internationale de l'Énergie (International Energy Agency - IEA) de 2014, l'Islande tirait 89% de sa consommation énergétique des énergies renouvelables alors que la Russie n'y consacrait que 3%.
---------------
The renewables energies are local tools used to produce energies directly by using the specificities of a territory. Its enlightment, its wind, its water, its production of firewood and, even, the reuse of its waste are viewed as renewables energies.
According to the numbers of 2011 of the World Energy Council (www.worldenergy.org), the Europe is the leader in the renewables energies setled with no less than 73.6% of the solar of the wold and 40.1% of the wind energy production. But this position of the leader in production hides, in fact, a large difference in the way how each country use the renewables energies in its power consumption.
The data of 2014 from the International Energy Agency (IEA) showed that the Iceland drawn 89% of its energy consumption from renewables sources but that the Russia do the same on a level of only 3%.
The IEA is an autonomous organisation which works to ensure reliable, affordable and clean energy for its 29 member countries and beyond.